How to Transition From One EHR System to Another: Part 1
By: Dustin Miranda | November 19, 2018
Technology rules our world. In most cases, it is a blessing.
Advances in EHR systems have allowed healthcare providers to maximize efficiency, bridge gaps in communication with other providers, track valuable health metrics and outcomes, and so much more.
However, if your healthcare organization is considering switching from one EHR system to another, or if you simply are not getting the most out of your current EHR, then tinkering with this sort of sophisticated technology can feel daunting.
Given the high rate of IT project failures, it is no wonder that so many healthcare organizations put off implementing a stronger EHR system to the last minute.
At John Lynch & Associates, we do not see a new EHR implementation project as just an IT project. Rather, such an endeavor is clinical, executive, and granular at the same time. Implementing a new EHR system affects the workflows, daily responsibilities, and capabilities of your entire organization.
That is precisely why we have created a thorough process for ensuring you get the greatest yield out of your EHR's amazing potential. In this three-part series, my teammates and I outline our process and the biggest pitfalls to watch out for as you embark on a transition to a new EHR system.
Set Yourself Up for EHR Success

The idea of using a new, more robust EHR system can be exciting, which is why many healthcare organizations understandably jump right into the implementation phase. However, I caution you against using the "learn as we go method."
After 20 years of working with healthcare providers, my team and I have seen time and time again how the organizations that take the time to plan the operation thoroughly have the most success at and after go-live.
When you first begin your planning phase, there are several things to consider, such as project scoping, financial costs, creating a timeline, risk activity, and objectives and deliverables.
First take a look at the current state of your healthcare organization. Even the most high-performing organizations have a few areas of improvement that can be folded into the new EHR implementation project.
At John Lynch & Associates, we start each new project with a full organizational health assessment using the John Lynch & Associates Organizational Evaluation Process. We have also created a condensed version for you to use on your own. You can download our Organizational Health Assessment here.
We also use scoping tools with the C-Suite as well as the entire staff to get everyone's input on the strengths and weaknesses of the organization prior to beginning the project. Doing so allows us to protect the organization's strengths and buff out any rough edges elsewhere.
Know Your Requirements
Next, we dive into the operational requirements to ensure that the EHR system we implement is going to be able to support the organization in meeting and reporting on any requirements.
When considering what your requirements for operation, patient care, and outcomes are, remember to consider your contractual requirements, service bare minimum requirements, reporting requirements, and patient satisfaction goals.
With these criteria noted, we are able to create the framework of the new EHR system and workflows that will be established in the implementation phase. From there, we can add additional features or tools that will benefit the internal processes and maximize performance and efficiency.
Communication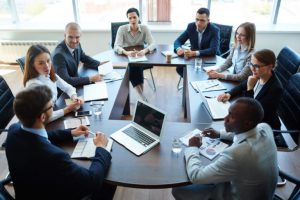 During such a large-scale project as implementing a new EHR system, there will inevitably be several voices and opinions to consider.
One of my favorite things about working with healthcare organizations is seeing how the smallest procedural details at the administrative or practice management level affect the major decisions made at the executive level. Much like a tiny grain of sand becomes a pearl, the most minute workflow tasks can affect the larger picture and overall health of an entire organization.
Therefore, it is absolutely critical to consider everyone's input during the planning stage of implementing a new EHR system. At John Lynch & Associates, we take special care during our onsite discovery to collect input and feedback from members at all levels of the organization, as well as stakeholders.
Additionally, we recommend taking the time to create a communication structure or plan for team members to utilize throughout the project duration. While many teams may assume they know how they will communicate with one another, each individual may operate under a different assumption. Making the communication tools and procedures explicit from the start can save hours upon hours of valuable time.
Then we move on to sorting out the top priorities for using the new EHR system. It is not uncommon for key decision makers in a healthcare organization to agree that a new EHR system is needed, but to disagree on how it will be used. This conundrum is natural and conversations need to be had to iron out the details to ensure the complete well-being of the organization is considered.
Clarifying Roles
The next step is to clarify who will be doing what during the EHR implementation, training, and post-go-live phases. This is an opportunity to utilize the strengths of the unique individuals within your organization and delegate specific tasks and subprojects to department leaders.
By establishing a clear blueprint of responsibilities, communication can flow smoothly from individuals who are at face level with any issues that arise all the way up to project managers and decision-makers.
Clarifying roles also ensures there is little to no confusion with regard to next steps and responsibilities as the project begins, which – in turn – leads to improved morale and positive outcomes.
Anticipate Risks & Roadblocks
Finally, with your requirements listed, communication chains flowing, and roles established, you can move on to anticipating risks and roadblocks for the project. Doing so allows you and your team to put safeguards in place and ensure the entire implementation process thoroughly addresses all of the organization's needs ahead of time.
For example, due to the complex nature of medical reimbursement and health plan reporting requirements, reporting issues are common in healthcare organizations. With that in mind, you can anticipate challenges that may arise in the future and implement the tools you and your staff will need to conquer those challenges when they present themselves.
Setting up risk meetings or activities to constantly assess potential risks and roadblocks can help you and your team stay on track throughout the duration of your EHR implementation. Risks and roadblocks are a natural part of any large-scale process; discussing the potential for these at key intervals can save you time and resources.
Wondering where to start your journey to a new EHR? The team at John Lynch & Associates is here to help. Get in touch with us to find out how we can help make your EHR switch as smooth as possible.
Ready to tackle the next phase of transitioning to a new EHR system? Read the next blog in our three-part series.