How to Transition From One EHR System to Another: Part 2
By: Echo Miranda | November 29, 2018
When most people think about switching to a new EHR system, they usually think of long hours fiddling with software, beta testing, then launching the tool for the whole organization to use.
Well, there is far more to it than that.
Once you have done your due diligence in the planning phase of a new EHR implementation, the next phase is readying your new EHR system for meaningful use (aka, promoting interoperability).
The whole purpose of EHR technology is to maximize the efficiency and effectiveness of healthcare services. EHRs allow healthcare providers to serve patients better, keep them safer, provide them with more education, and achieve greater health outcomes as we all work collaboratively in the same direction.
To achieve that overarching purpose, our consultants at John Lynch & Associates take very specific, deliberate actions when implementing a new EHR system for our clients.
Here is a glimpse into some of the most important factors to consider when executing your next EHR implementation.
Master Your EHR Map
Ideally, if you are ready to dive into building your new EHR system for meaningful use (now known as promoting interoperability), you have already done an organization-wide needs analysis. You have detailed your requirements, talked with all of your staff members from the check-in desk to the executive offices, and you have a clear picture of what your system needs to look like to support your organization in a successful operation.
Now, it is time to map those needs to your new EHR system. By creating a list of all of your organization's data and reporting needs, you can establish your EHR system to capture all of the relevant data and none of the irrelevant filler.
From there, you can begin to map your team's workflows with the goal of allowing everyone to practice to the top of their licenses. Practicing to the top of one's license means you are maximizing each team member's skill set by assigning as many tasks as possible to each individual, starting from the lowest license requirement. This also prevents your organization from paying high-cost providers to do work that lower-cost staff members can do.
For example, begin by considering all of the tasks a practice administrator can complete and build your workflow around that skill set. Next, consider what must be completed by a nurse or nurse practitioner and assign all tasks within that licensed skill set to that team member. Finally, what must be completed by a physician? Assign all of those tasks to the highest licensed member of your team.
Structuring your EHR workflows in this way allows you to maximize the time of your most qualified team members.
Meaningful Use Requires Effective Training
Meaningful use, also known as promoting interoperability, means utilizing your EHR systems in a way that fits organically with the workflows of your organization. Rather than using an EHR system out-of-the-box and trying to conform your operation to a generic template, EHR systems can be customized to suit your needs, your workflows, and your reporting requirements.
Once you have established your EHR workflows, you can begin developing training for your entire organization.
Keep in mind that individuals will require different training depending on the roles they fill within the organization. Start by compartmentalizing each of your organization's roles into one of these three categories:  
Business – This includes roles that are responsible for patient scheduling, reimbursement, and reporting.
Clinical – This includes medically-relevant data collection that must be completed by nurses and physicians.
HelpDesk – Your organization's IT department and any other individuals who will provide support for the business and clinical staff members.
With your roles categorized, you can begin to determine which training elements will be relevant to each role within your organization. The next step, then, is training your team.
One of the biggest risks to the success of an IT project is not allocating enough time for training. However, it is one of the most common phases of an EHR implementation to be cut when time is limited.
During training, key staff members – including physicians – are out of the office, which means productivity may suffer. However, your organization would be wise to suffer a relatively minor setback in productivity to allow all staff members to be thoroughly trained rather than suffer major long-term setbacks in productivity, record accuracy, and more later due to improper use of the new EHR system.
The importance of proper EHR user training cannot be overstated. One research study examined the unintended consequences of implementing a new computer-based data system and found that organizations are likely to suffer from increased medical errors due to a lack of sufficient end-user training.
Research shows that retention and comprehension are dramatically improved if training is spread out over the course of several days. Attempting to cram as much training as possible into one eight-hour work day yields ineffective results. Learning an entirely new EHR system and mastering it for meaningful use and maximum productivity takes time – time that will earn back its value over and over for years to come.
In fact, a study published in the AMIA Annual Symposium Proceedings Archive found that an intensive three-day off-site physician training program greatly improved the self-perceived efficiency of using a new EHR system.
Training is so critical to patient care that physicians ask for more training in order to ensure they are able to perform to their fullest competencies within a new EHR system.
At John Lynch & Associates, our goal is to optimize your operation, workflows, and productivity, which is why we take the training of your staff so seriously and have developed systems for maximizing the efficiency of your staff's training.
Test, Test & Test Again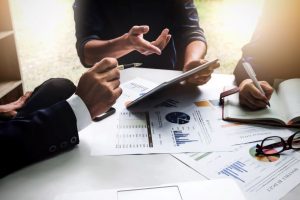 While your organization's team members are being trained on the new EHR system, it can be extremely beneficial to utilize real-world scenarios to simultaneously test your new EHR systems and to ensure correct meaningful use of the tool.
One way to achieve this is by using mock go-live events. For example, you may assign one physician each day to test the new EHR tool with two patients. Using a real case within your new EHR system can allow you to see if there are any issues with user acceptance of the new tool, workflows, or data migration validation.
The mock go-live exercise can also provide an opportunity to test billing and reporting procedures, as well. If any issues arise, they will be limited to very few records that are clearly identifiable and the problems can be put through troubleshooting procedures immediately.
Super Users to the Rescue
Finally, one of my team's favorite ways to strengthen an EHR implementation project is to establish super users within each department.
Super users are individuals who have received more training or have more experience with the new EHR tool and who can provide ongoing support to peers in real time as soon as issues or questions arise.
A 2012 study found that physician users of a new EHR system are likely to turn to clinician peers, also known as physician champions, 78% of the time when in need of help with the new tool.
Inevitably, hiccups will happen in the daily use of any EHR. Super users and physician champions are there to help their teammates adapt to the new system and provide in-action training for users who need additional support.
Not sure your organization has all its ducks in a row with your looming EHR implementation project? The team at John Lynch & Associates is here to help. Get in touch with us to find out how we can help make your EHR switch as smooth as possible.
Ready to tackle the next phase of transitioning to a new EHR system? Read the next blog in our three-part series.